NUXE Serum Merveillance merupakan produk dari France yang bermaksud marvelous serum ini merupakan salah satu produk dalam rangkaian anti-aging NUXE yang direka khas untuk mengurangkan visible expression lines.
NUXE Merveillance
Visible Expression Lines
NUXE Serum Merveillance, 30ml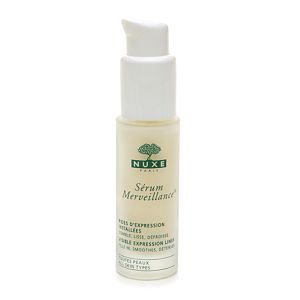 Use day and night on face and eye contour

Suitable for all skin type
NUXE Serum Merveillance mengandungi 87% natural origin ingredients serta bebas paraben dan non comedogenic. Dengan kandungan active rare plant, serum ini dapat mengurangkan kesan-kesan visible expression lines. Natural Wheat-derived Hyaluronic Acid Microspheres fill in expression lines. The epidermis is smoothed with Oat Extracts and NUXE patented Althea Root which inhibits the release of neurotransmitters responsible for muscle contraction. Calendula Officinalis and Mimosa Seeds (both patented by NUXE) re-plumps the deeper layer of the dermis by increasing type III collagen levels and inhibiting collagen destroying enzymes. Malt Extract encourages firming and maintains cohesion between dermis and epidermis for plumper and younger looking skin.
- fill in
- smooth
- re-plump
- firming
-detenses
Apply this anti-wrinkle serum in the morning and/or evening to the perfectly cleansed face and neck.
Packaging :
Kotaknya ada dua layer untuk melindungi botol serum ini daripada retak atau pecah. Transparent Pump bottle yang diperbuat daripada kaca tebal ini nampak sangat exclusive. Di penutup botol ini, dekat tempat nak picit pump ni ada arrow yang menunjukkan ke arah lawan jam. Untuk membuka serum ini, putar penutup botol mengikut arrow dan pump serum pada tapak tangan. Hanya satu pump je dah cukup untuk disapu pada seluruh wajah.
Scent :
Fresh flora and not too strong
Texture :
Light serum, well absorbed, non-greasy and produce soft-finish.
Anis pakai serum ni selepas pre-serum iaitu NUXE Nuxellence Jeunesse (baca review di
SINI
). Dah nak dekat sebulan anis pakai serum ni, dan memang anis suka bila kulit lebih licin. Produk ni memang sesuai dengan kulit muka anis. Apa yang buatkan anis suka pada produk ini ialah ianya berasaskan bahan semula jadi dan baunya wangi... ^_^
4/5
NUXE Serum Merveillance ini boleh didapati di semua

Sa Sa

outlet seluruh Malaysia
Price range

:
RM168-RM198
Untuk maklumat lebih lanjut tentang NUXE, sila layari :